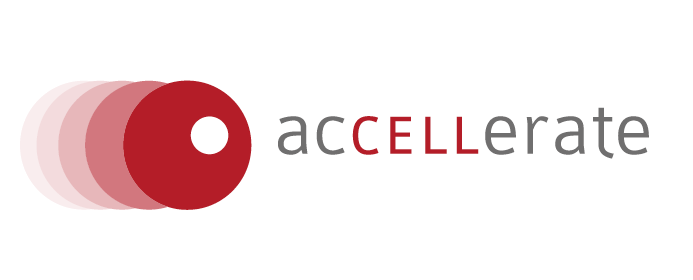 You are here: » acCELLerate Homepage
acCELLerate is a specialist for large-scale production and cryopreservation of highly functional assay ready cells. The instant use of cells from a frozen stock became a widely accepted approach which is preferred to the use of continuously passaged cells. Today, assay ready cells are used manifold for the screening of new drugs and functional ingredient, the animal free safety testing of chemicals, and for the potency testing of biotherapeutics in clinical development and manufacturing control. Assay ready cells increase the flexibility of any cell-based project and can significantly improve assay precision.
Based on 16 years of experience acCELLerate has developed freezing protocols and established well-controlled processes to prepare assay ready Frozen Instant Cells of high quality and robustness. Frozen Instant Cells can be used like a reagent without prior cultivation. acCELLerate provides assay ready cells from multiple cell lines, validated instaCELL bioassay kits, as well as custom cell banks of Frozen Instant Cells with comprehensive documentation to meet specific requirements of the different fields of application.
January, 2020
It's accomplished! The new book on Methods and Protocols in Animal Cell Biotechnology has just been published by Springer Nature, again edited by Ralf Pörtner. At acCELLerate we are proud to contribute a chapter on Assay Ready Cells to this great compendium...
September, 2019
acCELLerate is pleased to welcome Jacob Bliesener as our new marketing assistant. With his business management training in marketing and communication he will be responsible for all of acCELLerate's marketing activities...
June, 2019
Byonoy's absorbance 96 has won the New Product Award at this year's SLAS Europe. The most compact microplate reader uses 96 detection units to simultaneously read the signal of each individual well. acCELLerate is proudly distributing the absorbance 96 which has been qualified for acCELLerate's instaCELL bioassay kits. .....
April, 2019
Launch of a new instaCELL biocompatibility asssy kit. The kit includes pre-qualified assay ready L-929 cells and pre-cut reference materials for cytotoxicity testing of medical devices according to ISO 10993-5 .....
February, 2019
High density frozen instant cells prepared by acCELLerate have been successfully used for the efficient production of adeno-associated viruses (AAV). The work which has just been published in "Human Gene Therapy Methods" describes an efficient and reliable method to produce viral vectors .....